Terovania Games
Our passion:
Innovative game development
Terovania develops innovative, lively and exciting computer games that tell profound stories, convey values and thus offer added social value.

By using cutting edge technology, coupled with creative ideas and a lot of attention for detail, we create fictional universes that inspire our players.
Why computer games?
Computer games have fascinated most of us since early childhood. They open up new ways to express our imagination, to switch off or to get together. The founders of Terovania themselves grew up in a generation where the computer games industry was developing rapidly. Even as children, they dreamed of one day being able to create their own games and fictional worlds together with other enthusiasts and turn their ideas into reality.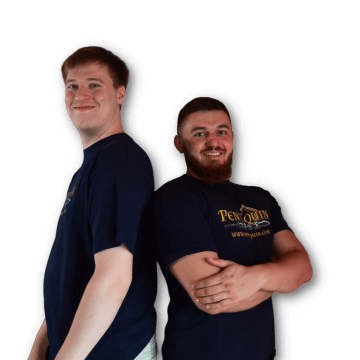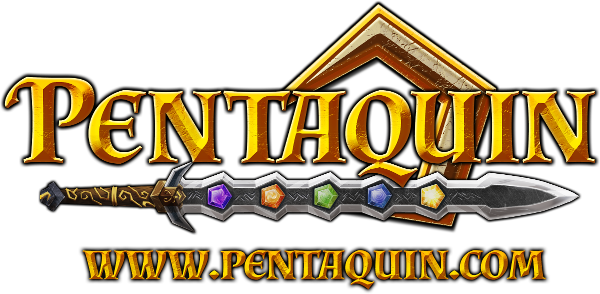 The roots of Terovania
The "Pentaquin" project
The roots of Terovania go back a long way. Terovania founder Christian first started "Pentaquin" in 2010: A group of students who wanted to realize their common dream of creating their own computer game in their free time. A lot has happened over the past few years and we have worked continuously on it, so that one day we can turn our common hobby into a second job. In April 2018 we decided to start a business for the upcoming first release "Pentaquin – Deeds of Twilight". This decision led to the founding of Terovania.
A passion with many facets
Our game development team consists of talents from a wide range of disciplines. Get to know the faces behind Terovania's Indie Game Development Team and their work!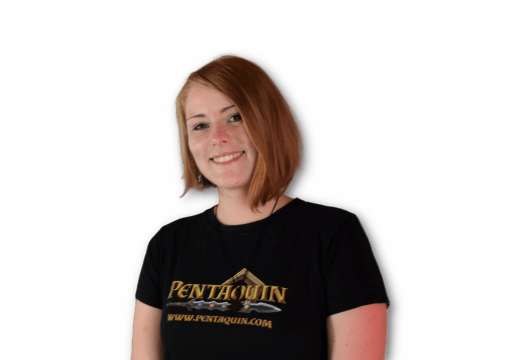 Game Art & Animation
"Working with the Pentaquin-Team means being able to fully express your creative potential and work together with likeminded people."

Tatjana Strauch, Art Director
Our game artists are passionate illustrators and turn the ideas, concepts and sketches of our game designers into reality.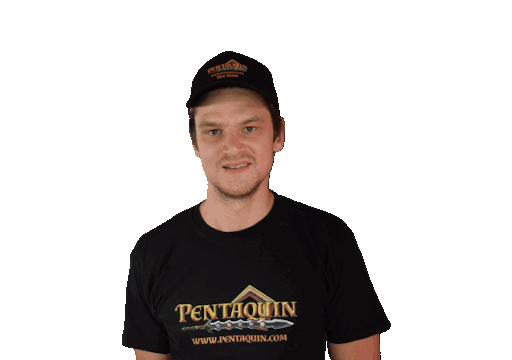 Game Design & Content
"The best part of being in the game design team is the close cooperation with all other teams. You can realize your own ideas, help others with implementation and get to see what you have created in the game."

Michael Siering, Creative Director
Our team consists of concept developers, copywriters and level designers who work closely with the other teams to develop and implement game concepts.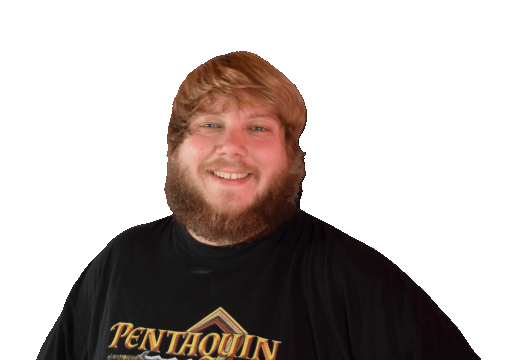 Programming
"As a game developer in the Pentaquin-team I can use my software development experience in creative new ways and develop new skills."

Daniel Volz, Software Developer
Our programmers breathe life into the works of art such as graphics and sounds and combine everything into a harmonious overall picture.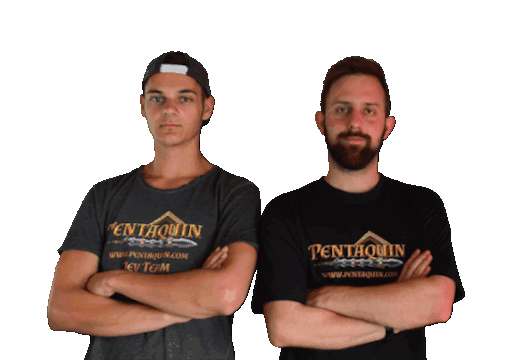 Sound-Design
"Composing epic music together is our passion. We work together like a well oiled machine and bring life into the game."

Christian Rüschoff & Lars Grages, Sound Artists
The Terovania sound team is currently creating sonorous soundscapes and monumental pieces of music to accompany our Pentaquin games.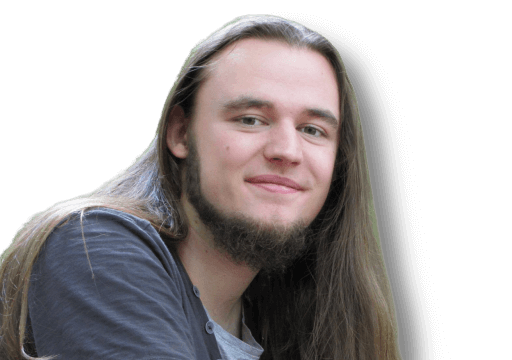 Project Management
"As a projectmanager I have to keep an eye on all of the compartments. I love the challenge of keeping everything on track and making the final parts fall into place."

René Grastat, Project Manager & Technical Director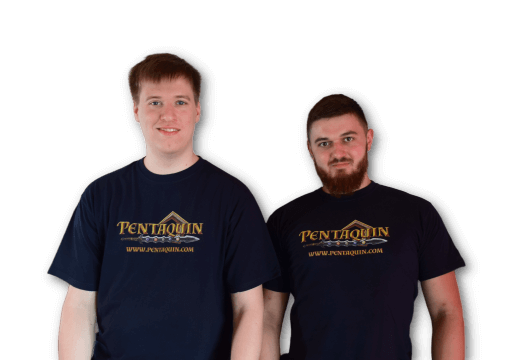 Management Board
"As managing directors of Terovania GbR and initiators of our first project Pentaquin, we are the people responsible for its successful implementation and all associated duties. The unity of our team and the realization of our common passion is our heart's desire"

Pascal Reintjens & Christian Schaal, CEOs
What makes us special
How we work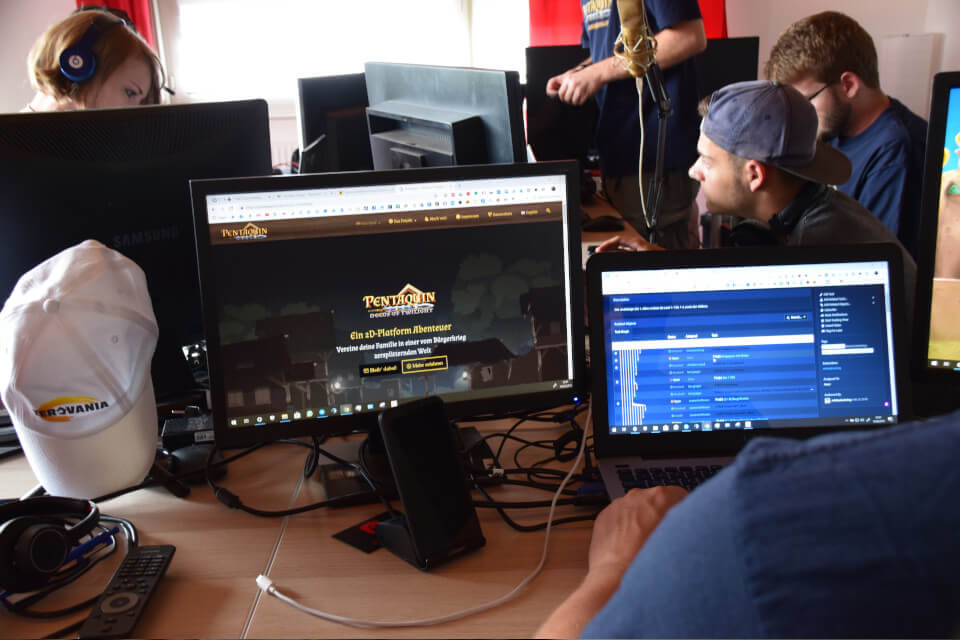 A well-functioning team
Game development with passion
Our game development team has grown into a tough core over the last few years through intensive cooperation on our "Pentaquin" project. A well-coordinated team of project managers, game designers, animators, game artists, sound composers and programmers work together with and for Terovania on our computer games. Thanks to our many years of experience, every move our developers make is coordinated with each other.
We work with tried and tested development and project management strategies, ensuring that our team is always efficient and at the same time motivated to work on the realisation of their ideas. We also master another challenge: Our team works almost exclusively remotely, i.e. from home!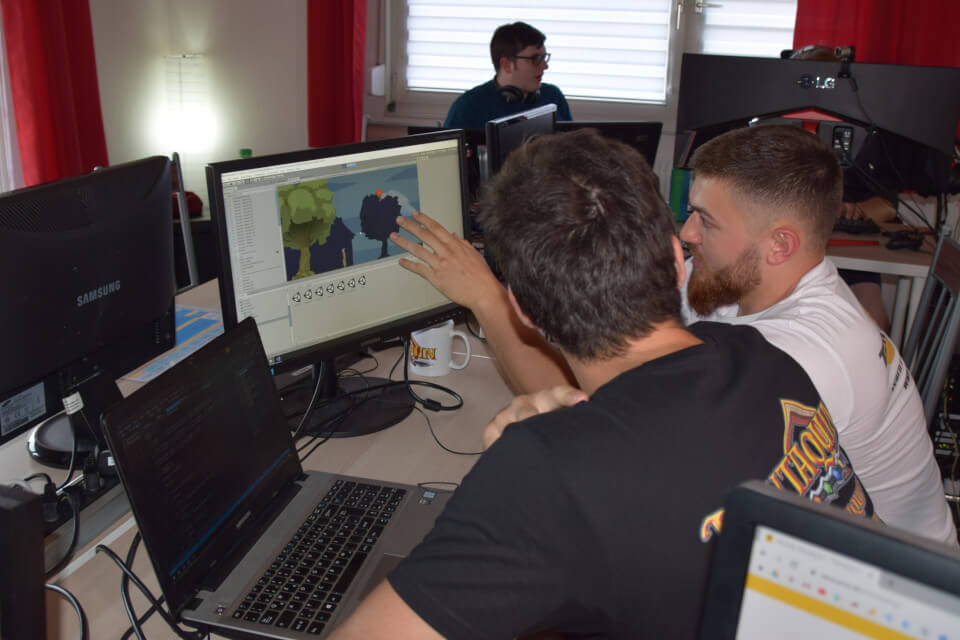 On the pulse of time
Modern Tools
As an indie game developer, it is especially important to work with modern tools to enable the best possible communication and working methods. For this we rely on a range of proven tools.
As a data protection-conscious company, we rely almost exclusively on self-hosted infrastructure and install our internal development tools on our own servers.
In addition to OpenSource solutions such as the popular file sharing and collaboration platform ↗Steamworks®2, ↗Unity®3 Software as well as the project management and documentation software ↗Jira® and ↗Confluence®4 kindly supported by the manufacturer ↗Atlassian.
Powerful tools
In use with us
Further information
More from Terovania Games
Our first game
Our first game "Pentaquin – Deeds of Twilight", which will be released under the Terovania label, is also the beginning of our franchise "Pentaquin", whose idea once founded the roots of Terovania.
Visit us on Steam®2
Our indie game label Terovania is of course also represented on Steam®2. Visit our profile there to stay up to date on all Terovania Games releases and never miss a game from us.
Become a part of us
Would you like to support the development of our Indie Game Development Studio with your creativity and passion for game development? Then become a part of our project "Pentaquin" and look forward to many exciting challenges.
Contact us
Are you interested in one of our services or in a joint project with us? We are looking forward to your message and to the dialogue during a free consultation.
All contents of this site, in particular texts, photographs and graphics are subject to German copyright law and are the intellectual property of Terovania GbR or its respective authors. Unauthorized duplication is not permitted. All rights, including reproduction, publication, editing and translation, are reserved. Our offer is intended exclusively for entrepreneurs, freelancers and self-employed traders.
All trademarks, brand names, product names, trade names or logos used or mentioned on these pages are the property of their respective owners. Owners of rights are free to revoke use at any time. Terovania®️ is a registered trademark of Terovania UG (haftungsbeschränkt) in all member states of the European Union.
1 Nextcloud and the Nextcloud Logo is a registered trademark of ↗Nextcloud GmbH in Germany and/or other countries.
2 ©2019 Valve Corporation. Steam and the Steam logo are trademarks and/or registered trademarks of ↗Valve Corporation in the U.S. and/or other countries.

3 These materials are not sponsored by or affiliated with Unity Technologies or its affiliates. "Unity" is a trademark or registered trademark of ↗Unity Technologies or its affiliates in the U.S. and elsewhere.
4 Atlassian®, Jira® und Confluence® are registered trademarks of ↗Atlassian Ltd.